Who Are Fresh Coast Guardians?
Fresh Coast Guardians are everyday people that want to protect and take care of our rivers and Lake Michigan. Are you a Fresh Coast Guardian? Tell us why you love Lake Michigan. What's your WHY?
What is the Fresh Coast Resource Center?
The Fresh Coast Resource Center (FCRC) helps southeastern Wisconsin improve the health of Lake Michigan through smart use of green infrastructure. The FCRC assists the community by providing the inspiration, education, and tools needed to create successful green infrastructure projects.
The Fresh Coast Resource Center is here to assist the community with information and planning of projects such as: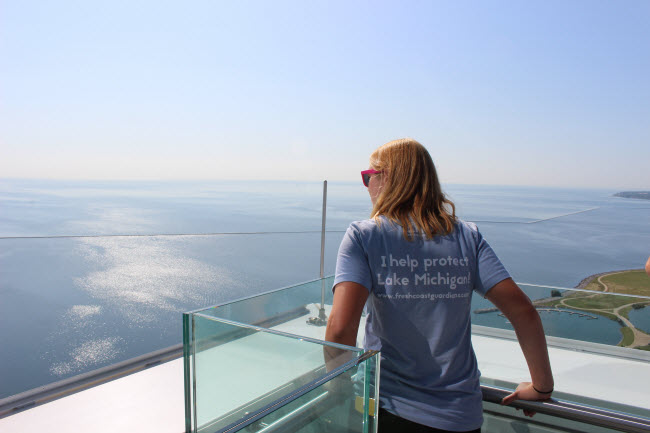 Why is there a Fresh Coast Resource Center?
In 2017, Milwaukee Metropolitan Sewerage District (MMSD) opened the FCRC to empower people, homeowners, businesses, nonprofits, and government to take an active role in protecting our most precious natural resource: water. By helping the community to protect our rivers and Lake Michigan, we work to achieve our goal of capturing the first 0.5 inch of rainfall in our service area. By capturing the first 0.5 inch of rain, 740 million gallons of water will stay out of our sewers, helping to prevent sewer overflows and reducing runoff pollution.
MMSD is regarded nationally as a leader in water reclamation, flood management, and green infrastructure. For nearly two decades, MMSD has been promoting the use of green infrastructure to manage water where it falls.
Do you have a question about what you can do to help protect our water? The Fresh Coast Resource Center is here to help. Call us at 414-225-2222 or fill out our Contact Us form.
Fresh Coast Ambassadors is an entry-level green infrastructure program connecting Milwaukee neighborhoods' young adults to water industry careers, watercourse issues, and green infrastructure, while generally promoting personal and professional development
MMSD serves 423 square miles that cover all, or segments of, six watersheds. Established by state law, MMSD is governed by eleven commissioners with taxing authority.
MMSD Serves these twenty-eight communities in Wisconsin:
Bayside, Brookfield, Brown Deer, Butler, Caledonia, Cudahy, Elm Grove, Fox Point, Franklin, Germantown, Glendale, Greendale, Greenfield, Hales Corners, Menomonee Falls, Menomonee River Hills, Mequon, Milwaukee, Muskego, New Berlin, Oak Creek, River Hills, Saint Francis, Shorewood, Thiensville, Wauwatosa, West Allis, West Milwaukee, and Whitefish Bay.
MMSD District Boundary and Combined Sewer Area Map
*Data for the Combined Sewer Area is provided by the City of Milwaukee and represents the best information currently available.