Fresh Coast Protection Partnership
In 2020, Milwaukee Metropolitan Sewerage District (MMSD) partnered with Corvias Infrastructure Solutions to create the Fresh Coast Protection Partnership (FCPP). The FCPP is a 3-year public-private partnership (P3). The FCPP is intended to help the District ramp up green infrastructure (GI) implementation to meet the District's 2035 Vision goal of capturing the first half-inch of rainfall across impervious surfaces within the District's Service Area. Between 2020 and 2022, the District along with its partner Corvias, will plan, design, bid, and build nearly 8.5 million gallons of stormwater capture capacity with GI. The GI projects are expected to be built in both the separate and combined sewer areas. The combined sewer area is found in older parts in older parts of the City of Milwaukee and the Village of Shorewood. In this area, sanitary sewage and stormwater both feed into the same sewer pipes, sometimes leading to sewer overflows and basement back-ups.
The District has a long history of providing funding for GI to public and private partners. Increasing numbers of intense rain events and the incorporation of GI into the District's permit have pushed the District to do more to be resilient in the face of climate change. The FCPP will push beyond the scope of previous GI programs to better direct where GI is placed (to maximize benefits), how it is designed, and how it is constructed. This will help MMSD find efficiencies in achieving its GI goals. Corvias works with local planning and engineering firms to select project locations and then gives MMSD the opportunity to provide critical feedback and accept or reject projects.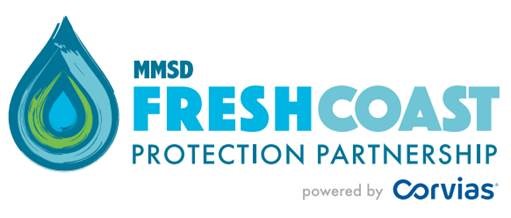 In addition to having input on project location, the FCPP it transfers financial risk to the private partner (Corvias) and incorporates quality control measures. Quality control measures such as minimum design standards and third-party project certification are in place to ensure that projects are well-built and achieve the expected stormwater detention capacity.
The FCPP also gives additional focus on building a more robust consulting and construction industry around GI by creating a robust Mentor Protégé program to build GI skills and experience. Furthermore, the FCPP has set higher goals for small, women, minority, and veteran-owned business enterprise (SWMBE) participation; the current goal across FCPP activities is 25% participation. Lastly, the FCPP looks to integrate community outreach and stakeholder engagement to build awareness of GI and obtain participation and support for the Program.

Partnership Objectives:
Help the District to achieve compliance with the District's Wisconsin Pollutant Discharge Elimination System (WPDES) permit.

Help the District's participating municipalities meet Municipal Separate Storm Sewer System (MS4) permits

Reduce the cost per gallon of GI storage

Attain a goal of certified SWMBE of 25 percent or higher
Partner with local workforce development programs

Provide mentoring of emerging businesses

Identify non-traditional funding sources that can be leveraged
Partnership Goals: 
Make GI an affordable alternative to grey infrastructure

Reduce overflow volume and regional flooding

Build local GI capacity and participation in Milwaukee region
Stats: 
56 projects reviewed and prioritized, 15 selected to move into design

2 projects completed design, construction in 2021

Average Small, Women, and Minority Owned Business Enterprise participation in project is 67%

9.14MG of GI capacity in Design or construction phase