Fresh Coast Ambassadors
In Fall 2018, Milwaukee Metropolitan Sewerage District (MMSD) partnered with Cream City Conservation and Employ Milwaukee to design an entry-level green infrastructure program. The Fresh Coast Ambassador Program introduces residents of MMSD's service area with preference to the 30th Street Corridor and Kinnickinnic River neighborhoods who are between the ages of 15 and 23 to water industry careers, watercourse issues, and green infrastructure, while generally promoting personal and professional development. Learning and work experiences include natural resource conservation, urban agriculture, green infrastructure, and trails. The curriculum promotes competency consistent with (a) the Common Core Standards for English language arts, history, social studies, science, and mathematics and (b) the National Green Infrastructure Certification Program, established by the Water Environment Federation. By coordinating their efforts, MMSD, Cream City Conservation, and Employ Milwaukee can leverage funding and expertise and can improve outcomes.
Programs like Fresh Coast Ambassadors not only provides skills training and labor to address undermaintained green infrastructure investments on public land, it introduces water career pathways to young people whose identities are significantly underrepresented in the green-blue sector while consequently fostering a deeper connection to community and nature.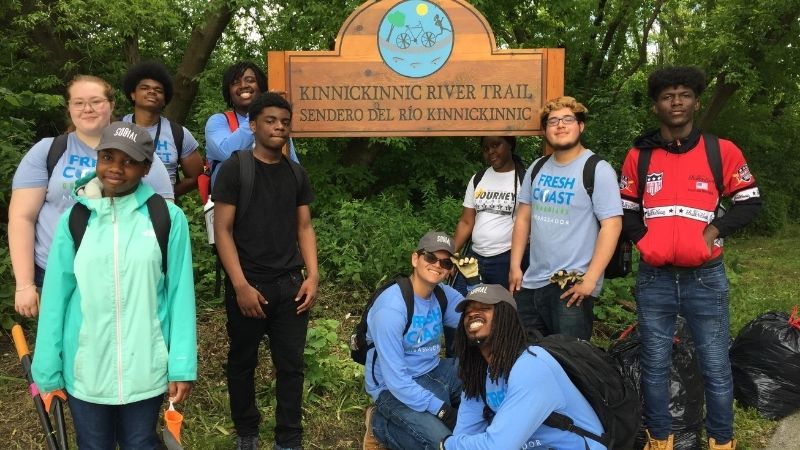 Fresh Coast Ambassadors on the Kinnickinnic River Trail.
The Covid-19 pandemic severely altered the initial plans for the 2020 Fresh Coast Ambassadors program. Faced with the option of canceling the program altogether or hosting a smaller crew virtually, the difficult decision was made to continue engaging the next generation of green infrastructure professionals in an online learning platform.
Are you interested in being a Fresh Coast Ambassador? Contact Us.
Bioswale Inspection

Kayaking

Learning About Native Landscaping

Rain Garden Install

Visiting Nature Center

Native Landscaping Clean Up

Tapping a Maple Tree
"This experience has made and shaped my relationship to the environment. The program opened my eyes to how much nature impacts us, not only in resources, but also in community. I had learned so much more about the importance of taking care of the environment in order to preserve it for later generations."
– Hanan Ali (crew member in 2019, became apprentice crew leader in 2020)
"Working with the Fresh Coast Ambassadors was a joyful experience that renewed my faith in the ability of young people of their generation to tackle our pressing environmental issues head on."
- Linda Reid, NGICP Course instructor, Water365, LLC
Why Be a Fresh Coast Ambassador?
Objectives/Goals:
Provide an opportunity for young adults to learn about education for career pathways in the water industry.
Focused recruitment of individuals from the 30th Street Corridor and the Kinnickinnic Watershed neighborhoods.
Provide members with an informative service learning experience.
Provide crew leaders with high quality materials to teach in various settings.
Empower crew members to realize their personal leadership potential, cultivate a conservation ethic, commit to lifelong environmental stewardship, and value service work to other people, the land and water.
Crew members and leaders will participate in at least three visits to colleges or universities to learn about water sector and green industry educational pathways.
Enhance their social network by introducing them to industry professionals. Tour offices, attend career panel discussions and, as appropriate and available, job shadow individual staff. with water industry organizations.
Increase their personal and professional development through trainings and industry recognized certifications including the National Green Infrastructure Certification Program established by the Water Environment Federation.
Stats:
2020: A total of nine individual participated in the program (including six crew members, one project coordinator, one crew leader, and one apprentice crew leader)

2019: A total of 19 individuals participated in the program (including two crew leaders who are former Earn & Learn participants and Cream City Conservation Corps graduates.)
Certifications & Trainings:
OSHA 10-Hour Construction Safety and Health, OSHA recommends Outreach Training Courses as an introduction to occupational safety and health for workers.
American Red Cross Course: Responding to Emergencies Adult First Aid/CPR/AED. This course was intended to prepare the Ambassadors on recognizing and responding to first aid, breathing and cardiac emergencies involving adults
Forklift Training : Onsite Safety and Health Consultation Program: This course was centered around safety when operating large machinery, proper body mechanics, and also included OSHA requirements.
National Green Infrastructure Certification Program (NGICP): Intro to Green Infrastructure, this 36 hour training was to prepare the Fresh Coast Ambassadors for the NGICP Exam to receive their GI Certification. They went over many aspects of GI including how to identify its many environmental, social, and economic benefits.